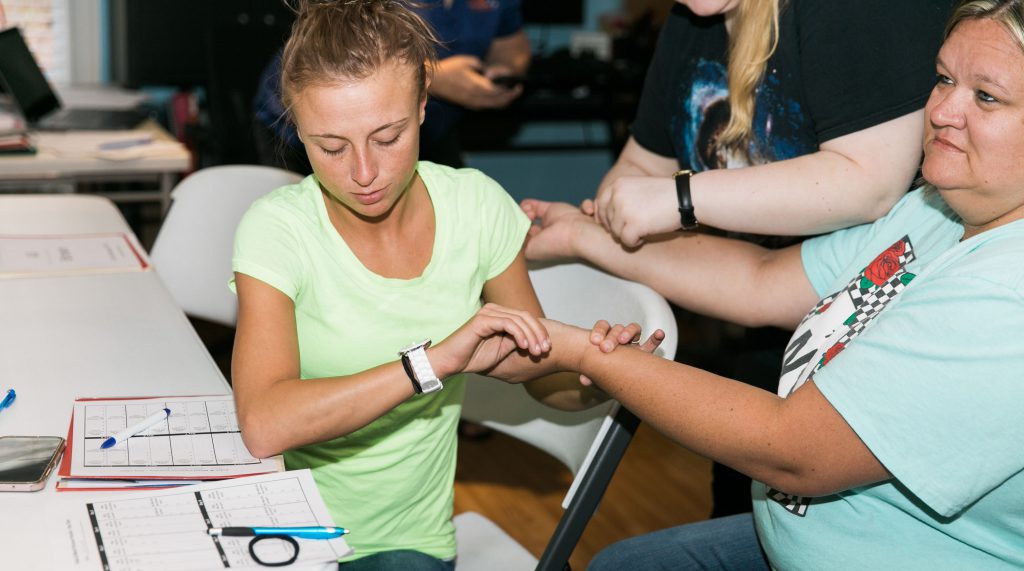 The Patient Care Technician Certification program is a combination of Phlebotomy, EKG, and Advanced Nursing Skills for the nurse aide. This program is geared towards those wanting to work in emergency rooms, urgent care facilities, cardiac floors, or those interested in gaining more skills prior to nursing and medical school programs.
If your medical professional goals include more advanced medical roles in hospitals or furthering your education with medical or nursing school, our PCT program will give you the knowledge and certifications helpful to move forward in the medical field.
Benefits of Becoming a Patient Care Technician:
Learn how to collect specimen samples; the types of tests performed; how diets and/or medications can interfere with tests; and how to prepare samples for testing.
Gain experience performing 3, 5, and 12-lead EKG tests.
Learn to read normal/abnormal EKG rhythms.
Gain experience with a minimum of 100 successful blood draws.
Learn sterile technique, how it differs from clean technique, and some situations where it is used, such as during surgery.
Earn certifications to help you stand out when applying for employment or higher education. Future employers may offer tuition reimbursement toward additional training or higher education if it is in the medical field.
Upcoming PCT class starts: Call office to get upcoming class dates.

Course
Information About the Course
Prerequisites are a High School Diploma/GED and a current or in-progress CNA Certification.Textbook, workbook, lab supplies, and certification exam fees included.
Knowledgeable Instructors with +45 years of combined experience.
Finish with 4 Certifications: CNA, CET, CPCT, and CPT.
Certification Exams taken at our training center.
Future employers may offer tuition reimbursement toward higher education if the job is in the medical field.
At the end of the course, the student will have +100 successful venipuncture sticks and +40 successful 12 lead EKG's done and read along with experience doing EKGs with 3 leads and 5 leads as well.
There are three parts of the course, designed to build off of each other to make you the most well-rounded Patient Care Tech possible:
Part ONE: Phlebotomy (6 weeks)
The first step to becoming a PCT is to complete the Phlebotomy Program. In our Phlebotomy class you will gain the skills and experience necessary to be a Certified Phlebotomist. In this program you enhance your knowledge in patient care with hands on learning in patient care and lab testing procedures.
Students get a week long break between Phlebotomy and Advanced Nursing Skills.
Part TWO: Advanced Nursing Skills (3 weeks)
The second portion of the PCT Class is Advanced Nursing Skills for the Nurse Aid. This is a three-week course which rounds out the PCT program. This class offers more in-depth training in nursing specialties including wound care, pediatrics, obstetrics, geriatrics, surgery, psychiatrics, urology, nutrition, respiratory, and medication.
Part THREE: EKG (3 weeks)
The final step to becoming a PCT is to complete the EKG Program. You will learn about the anatomy of the cardiovascular system, the correct way to perform a successful EKG on a patient, and how to read an EKG correctly and accurately. This part of the course covers 3, 5, and 12 lead EKG tests, as well as going into depth on reading abnormal vs. normal EKG results at a level not generally learned in nursing programs.
Payment
The cost of our Patient Care Tech program is composed of 3 parts:
Phlebotomy $1,995
Advanced Nursing Skills $805
EKG Technician $895
*All-Inclusive Total $3,695 
This pricing includes:
Tuition/fees
Class binder
Textbook
Workbook
Flashcards
Study material for National Exam
National Exam fee
All lab supplies required
Payment plans can be arranged and financial aid is available for those who qualify. WIOA is a federally funded training program that may provide payment assistance if you qualify. General qualifications include people who have been laid off from employment and/or are receiving unemployment. There are a few other sources for financial assistance. See the Financial Aid Information link in the PCT class downloads and About > Financial Aid & Payment Plans for more information.
PCT Class Downloads
We are currently updating forms and policies in the download sections – please call the office for the most up to date forms.
Application
Calendar/Schedule