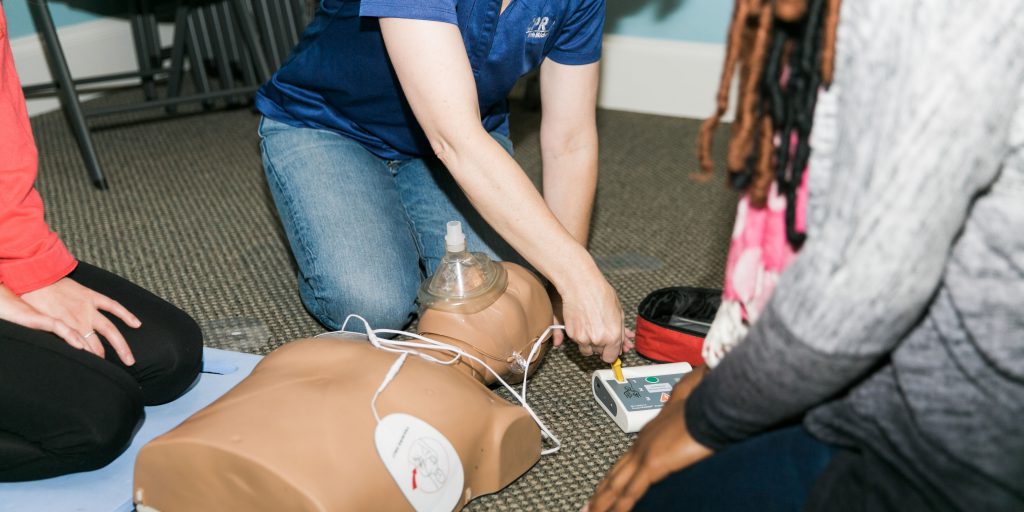 Basic Life Support CPR & First Aid In-Person Classes
Anyone who provides patient care needs to complete the BLS for Healthcare Provider CPR class. Examples include: Nurses, nursing students, doctors, physical therapists, medical assistants, surgical techs, EMTs, paramedics, and lifeguards.
Classes are compact and up to date. Each student has their own supplies to complete all practice aspects of class in a timely manner. Our goal is to use your time in class to it's maximum.
BLS Renewal Online Course
We recognize that community members may have received training in the past for CPR and First Aid. The HCP Online Renewal Course allows the healthcare provider to complete many of the required course components over the internet. The course contains a series of online modules that cover the required adult, child, and infant CPR sequence, which require an average of 1-2 hours to complete:
 2 Checkpoints that must be completed
20 review sections and 19 videos that are optional.
Visit the American Heart Association website for more information on the online portion of this course. 
Once you have completed the online portion of the course, print out your completion certificate and call CPR With Mickey to schedule the skills validation portion at our office. This process will usually be between 15 and 30 minutes long. After you have completed both sections of the course, you will be issued an American Heart Association BLS – Healthcare Provider E-card in which the student can access through their e-mail once received. 
The eCard received for completion of online/skills-checkoff will be the same eCard received for completion of full in-person course.
If you are interested in our Heartsaver or Community CPR or First Aid classes, please refer to AHA Classes > CPR/AED & First Aid.
Pricing

Pricing for the class is $31 for the online portion, plus the cost of the skills check through CPR With Mickey, which is $50.00. 
*Please note that AHA encourages you to have a current certification to be eligible for this course