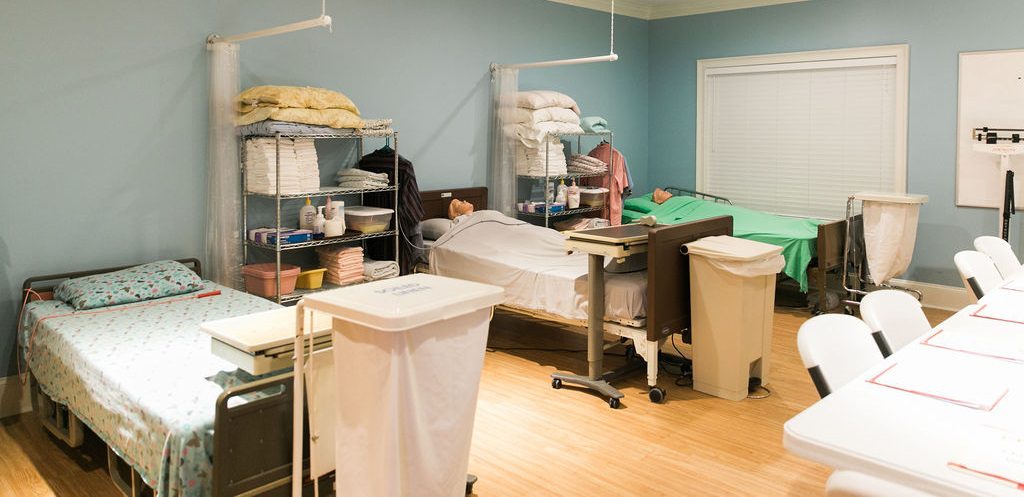 Become one of our Certified Nurse's Aids and start making a difference in the medical field!
We offer compact and fun healthcare provider classes as well as general CPR and First Aid classes. We have wonderful, friendly staff members who combined have over 50 years of experience in the medical field and strive to prepare and advance our students into the medical field.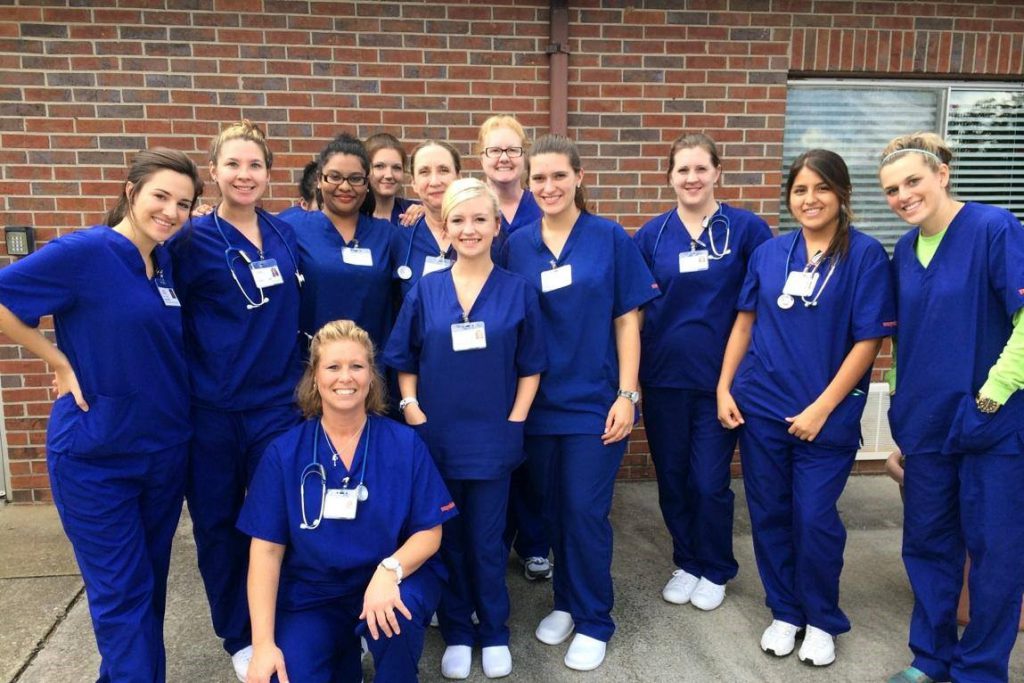 Our program was established 2008, with curriculum developed by a Georgia State Examiner, and is maintained by a current state examiner.
Our CNA program is consistently in the top 10% of GA programs. Become one of our CNAs and start making a difference today!
Classes
We have three different class schedules available, depending on what your needs are.
Our three class formats:

Accelerated Day Class
This 3-week course was developed for those able to dedicate themselves to full-time school, including 2-3 hours of home study each night.
Schedule: Week 1-3: M/Tu/W/Th @ 8:30a-4:00p & Fri. Clinical @ 7:15a-3:30p
Evening Class
This 5-week class was developed for those who work or attend school during the day.
Schedule: Week 1-5: M/Tu/Th @ 6:00-10:00p & Sat. @ 9:00a-4:00p or Clinical @ 7:15a-3:30p
Modified 3 Day / Week Class
This 4.5 week course was developed for those who work, but have flexible scheduling, same schedule as the 3 – week day class but spread out more.
Schedule: All Weeks: Tu / Thurs / Sat @ 8:30a-4:00p with 3 days being clinical meeting from 7:15a-3:30p
Payment
We offer an all-inclusive pricing, totaling $1150.
All you have to provide are a watch with a second hand, a mask, and a desire to learn!
This pricing includes:
Tuition/Fees
6 books
Blood pressure cuff
Stethoscope
Tote bag for supplies
American Heart Association (AHA) First Aid certification
AHA BLS (Healthcare Provider CPR) certification
Background check (required for clinical)
PPD/TB Skin test (required for clinical)
1 set of scrubs (required for clinical)
1 pair of white nursing clogs
Review class prior to state exam
State exam fee
Practice Kit
Payment Due Dates
A $150 non-refundable registration fee is due with application to hold a place in class. The remainder is due on/before the first day, unless a payment plan has been put in place.
Payment Plan Options: 
Students that choose to do the payment plan will have a 1-time $25 payment plan fee added to the first weeks payment. The remaining tuition is split up over all the weeks of the class, with no interest added. Payments are due on the first day of class each week.
We are an approved WIOA & Vocational Rehab provider
Cancellation
If you are unable to attend the class you have registered for, you have 6 months to apply the $150 registration fee to another course.
To take advantage of our cancellation plan, you must give CPR with Mickey at least 48 hours notice of cancellation
before the first day of class
by emailing
office@CPRwithMickey.com
AND by calling 770-573-2448.  If you don't notify us prior to 48 hours before the class begins, the registration fee is forfeited.
State Exam
CPR with Mickey is a Georgia Regional Testing site as well as offering in-facility testing for CPR with Mickey students. For our students, your state exam will be administered approximately 2.5 weeks after you finish your class, and our staff will help you register for your state exam. CPR with Mickey provides all equipment and supplies for the State Exam. The State Examiner is provided by Pearson VUE. All policies are those of Pearson VUE and are neither set nor controlled by CPR with Mickey.
If you are looking to take your State Exam with CPR with Mickey and are not a former student, the following information will help prepare you to take your exam with us:
Address:  110 Evans Mill Drive, Suite 704, Dallas, GA 30157
We are located in the second row of offices, down the hill when you pull into the office park.
Phone:  770-573-2448
Written Exam Arrival Time:  No later than 8:30 AM
Written Exam Start Time:  9:00 AM*
Skills-Only Arrival Time:  10:30 AM
* Failure to be in the testing room by precisely 9 AM will result in not being allowed to take the written exam.  You may, however, wait and take your Skills Exam.


What to Bring
ORIGINAL driver's license, passport, military ID, or state ID card (cannot be expired)
ORIGINAL Social Security card (signed in black or blue ink)
#2 Pencils (at least 2)
The first/last names on your ID and Social Security card must be IDENTICAL to each other AND identical to the name you registered under for the exam. The examiner is not able to make exceptions on this.
What to Wear
Sleeveless shirt (may be worn under other clothing)
Slip-on shoes
Watch (NO digital, Apple, Google, etc. watches are allowed to be worn or used during either the written or skills exam)
To learn more about what to bring and expect on exam day, reference page 11 of the NNAAP Georgia Nurse Aid Handbook. A PDF of this text has been made available below.
Resources
For Purchase
All items, including room rental, must be arranged at least 24 hours in advance.  Purchased items must be picked up at CPR with Mickey.  We do not ship.
Rent the Testing Room (by appointment only) – $25 for 2 hours – Supplies included.  Must bring a partner if want someone to be the patient.  Room must be left in the same condition in which it was found.
Practice Kit with BP cuff & stethoscope – $50
Practice Kit without BP cuff & stethoscope – $35
CNA Magnet – $5
CNA T-shirt – $15
CNA Class Downloads
We are currently updating forms and policies in the download sections – please call the office for the most up to date forms.
Catalog and Policy Manual

Student Application

Financial Aid Information

Calendar/Schedule